These are the guys that give me critiques, advice and ideas for the calls.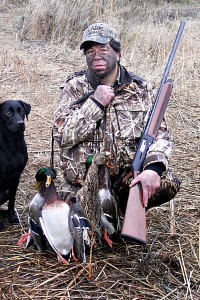 Michael Soares – Oregon – Waterfowl hunting runs deep within my veins going back as far as the 1800s. My mother and father both hunted ducks and geese. My mother would bundle me up as a baby and take me along with them. I was born in August so my first adventure was when I was just 2 months old. When I was finally old enough to cock my Daisy BB gun I would stand next to mom and dad in the tules of Klamath Marsh and shoot at anything that would swim by. Good thing dad had those old wood and cork decoys.
Most of my hunting has been along the firing line in Southern Oregon and Northern California on the Klamath Refuge. We hunted in field blinds set up in the center of large spreads of goose decoys. I have hunted the Pacific flyway as far South as Sacramento to Northern Oregon.
What I enjoy most about hunting ducks and geese is the gathering of friends and family on opening morning, and the evening talks around a warm fire. These are the memories that will stay with me the rest of my life.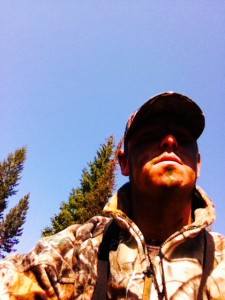 Corey Cheff – Montana – I grew up in a family that hunting was something that you didn't do to be cool but as a way to provide for your family. From the time I was born till the time I was 13, I didn't know anyone that didn't hunt. Being outdoors and taking game for me is part tradition, part providing for my family.
My favorite animal to hunt is elk, although with the wolf population I've taken very few and have been fortunate enough to harvest a whitetail every year since I was 12. I also hunt turkey's, bear, upland game birds and Muleys.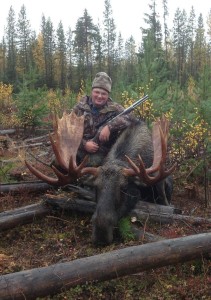 Tyrel Moffitt – Kansas – I grew up hunting with my Dad. Hunting is a very big part of my family. My dad and granddad both took me hunting from a very young age. I hunt because I love to be outdoors and to provide groceries for the table. I killed my first dove when I was six years old and have been hunting ever since. I hunt elk, predators, deer, upland birds, waterfowl, and turkeys.
My two favorite species to hunt are predators and elk.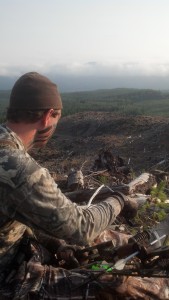 Kyle Figura – Oregon – I was born and raised in Portland, Oregon, growing up in the outdoors archery hunting and fishing.
Although I hunt a variety of big game animals my passion is archery elk hunting every September in the coastal ranges. When I'm not hunting I am usually salmon fishing on the local rivers or the ocean. I eat, sleep, and dream hunting and fishing. When I'm not dreaming about hunting or fishing I am usually thinking about hunting or fishing. To me hunting is about the close encounters and fishing is all about the fight and life at the end of the line.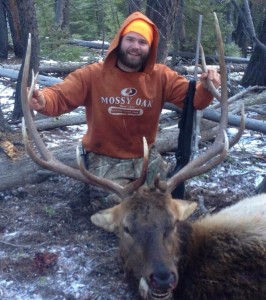 Joe Lang – Minnesota – I grew up hunting with my dad and brothers, we would hunt anything that was in season. Growing up I watched my dad leave for; moose, antelope, elk, and caribou hunts. I always knew this is something I would do someday! When I got into High School I didn't have that passion for hunting anymore. But it was a duck hunt that I did with a friend when I was 21 that brought me back to the place I was meant to be. I never duck hunted before this but I instantly fell in love with it. That slowly got me back into big game again as well.
I hunt because of the meat it provides my family and the adventures I get while harvesting it.
Since then I have successfully hunted Antelope, Elk, Mule Deer and Moose. I also hunt bear, turkeys, ducks, geese and upland birds. My favorite hunt is Elk though. You can't beat being immersed in the herd and hearing the communication between those beautiful animals.
Find out more about Joe at his blog "Backcountry Dreaming"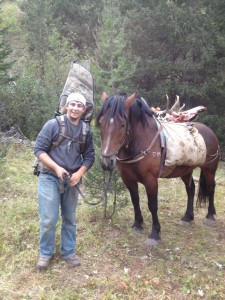 Tyler Kerry – Oregon – I was born and raised in Hillsboro, Oregon and ever since I was a little kid I remember going deer hunting with my dad, grandpa, and our friends. We would head out on the back roads with us all piled into vehicles going around looking for deer, and it seemed every night someone had a story of either killing or drawing down on a deer. Those were some of the best memories of my childhood and have fueled my love for the outdoors throughout the years.
I am currently in school to become a game warden and I am also a guide and packer for an outfitter in Wyoming during archery and rifle season. My passion in the outdoors is bow hunting for elk. I also love chasing mule deer and fly fishing but my true passion is elk hunting. There is nothing better than that chill that runs down your back when you hear a bugling bull in the height of the rut.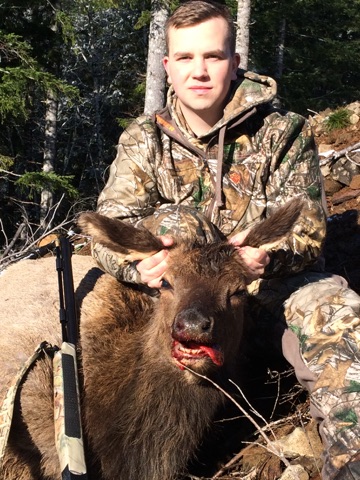 Michael "Mickey" Soares – Texas – I was born in Medford, Oregon and raised for most of my life up in Hillsboro. Hunting didn't always occupy my time; I was so focused on sports and motocross racing that I didn't come to love hunting until my older years. I of course had my own BB gun when I was about five and certainly loved shooting cans off the fence in the backyard. I even loved going on "hunting trips" with my dad where he'd let me shoot squirrels and rabbits while he chased for bigger game. However, it wasn't until I finally earned my hunter safety and my dad gifted me my first shotgun that I was really hooked on hunting. That first September I was out dove hunting with my dad in our backyard. Dove hunting was a blast but I was so excited for duck season to start! I had already been out in the waterfowl fields watching when I was younger. So I already knew how exciting waterfowl hunting was and I couldn't wait to shoot them myself. Shortly after I killed my first blacktail doe with my dad's .223 which was just the beginning of my pursuit for big game hunting. After my father also knew my love for big game hunting he purchased me my first 30-06 hunting rifle. It was at that point I went hunting with my older brother and pretty much began venturing off into the forest alone. My own freedom to adventure where I wanted. I was never so excited to explore the vast forest beyond. During those two years I finally bagged my first 3×3 blacktail buck followed by a 2×3. My addiction to hunting gave me the desire to try every new thing. From getting my first compound bow to my inline muzzleloader I had bagged my first deer with a bow and my first elk with a muzzleloader.
The biggest crossroads in my life was when I finally graduated high school and wanted to serve my country. I knew of the freedom that I was about to lose. The hunting opportunities that I would no longer be privileged to have. However, my bigger purpose was to serve and so I joined the United States Army as a combat medic. After finishing my training and being stationed at Fort Bliss, Texas I shortly was back pursuing my hunting addiction. Being able to hunt ducks and geese here on the US/Mexico border of the Rio Grande I was back at it again. These Texas ducks love Toasted Fowl duck calls.
To say the least I am very satisfied with the hunting opportunities that I have had and the success that I have been afforded. However, my hunting addiction will never end. This is only the beginning for me to bag my trophy bull elk and trophy buck.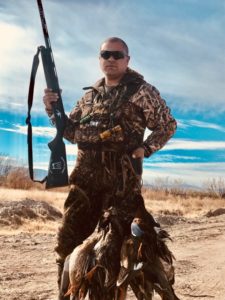 Adrian Lara – Texas – I started hunting at a young age with my father. Started shooting at the age of 6 and killed my first deer at the age of 11. I love the outdoors, especially hunting and fishing. At the age of 16 I killed my biggest deer. I've been to a few states to pursue game. I've been to California for Blacktail, Idaho and Wyoming for Mule Deer and Texas after hogs, deer, ducks and exotic game. Soon I'll be in Colorado after elk.
More To Come!!!